Posts for: October, 2017
By Lawrence Marini, D.D.S.,PC
October 28, 2017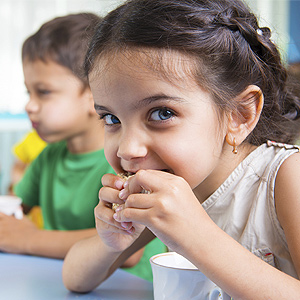 Eaten in a fast food restaurant lately? If so, maybe you've noticed some changes in the big, colorful signs behind the counters. Many have begun promoting a few "healthier" selections (like salads and grilled items) and giving a more extensive listing of nutritional information. But there's one thing you might not have noticed on those displays: a listing for soda among the beverage choices in the kiddie meal packages. That's because they are no longer there.
Recently, Burger King quietly removed sugary fountain drinks from the in-store and online menu boards that show what you get with kids' meals. They were following the lead of McDonalds and Wendy's, both of which made similar moves in prior months. You can still get a soda with your kiddie burger if you specifically ask for one, but we're hoping you won't; here's why.
For one thing, youth obesity has nearly tripled in the past three decades. As the U.S. Centers for Disease Control and Prevention (CDC) has noted, it's now an epidemic affecting more than one in six children and adolescents. Many of the extra calories kids get are blamed on sugary drinks: According to a study by the Harvard School of Public Health, children's daily calorie intake from these beverages rose by 60 percent in recent years. Obesity makes kids more likely to get many diseases, and can lead to problems in psychological and social adjustment.
But that's not all. As dentists, we're concerned about the potential for soda to cause tooth decay, which is still the number one chronic disease in children around the world. The association between sugary drinks and cavities is clear. So is the fact that tooth decay causes pain, countless hours of missed school and work, and expense that's largely unnecessary, because it's a disease that is almost 100 percent preventable.
While the new signage at fast food restaurants won't make soda disappear, it does tend to make it less of an automatic choice. Anything that discourages children from routinely consuming soda is bound to help — and let's point out that the same thing goes for other sweet and acidic beverages including so-called "sports" and "energy" drinks. It's best to try and eliminate these from your child's diet; but if you do allow them, at least limit them to mealtimes, and give your mouth a break from sweets between meals. That gives the saliva enough time to do its work as a natural buffer and acid-neutralizer.
What else can you do to help keep your child's oral hygiene in tip-top shape? Be sure they brush their teeth twice and floss once every day, and bring them in for regular checkups and cleanings. But if you do suspect tooth decay, don't delay treatment: Left alone, decay bacteria can infect the inner pulp of the tooth, resulting in severe pain, inflammation, and possibly the need for root canal treatment.
If you would like more information about children's oral health, please contact us or schedule an appointment. You can learn more by reading the Dear Doctor magazine articles "How to Help Your Child Develop the Best Habits for Oral Health" and "Top 10 Oral Health Tips For Children."
By Lawrence Marini, D.D.S.,PC
October 13, 2017
When you think orthodontics, you may instantly picture braces or clear aligners worn by teenagers or adults. But there's more to orthodontics than correcting fully developed malocclusions (poor bites). It's also possible to intervene and potentially reduce a malocclusion's future severity and cost well beforehand.
Known as interceptive orthodontics, these treatments help guide jaw growth in children while mouth structures are still developing and more pliable. But timing is critical: waiting until late childhood or puberty could be too late.
For example, we can influence an upper jaw developing too narrowly (which can cause erupting teeth to crowd each other) with an expander appliance placed in the roof of the mouth. The expander exerts slight, outward pressure on the upper jaw bones. Because the bones haven't yet fused as they will later, the pressure maintains a gap between them that fills with additional bone that eventually widens the jaw.
Functional appliances like the Herbst appliance influence muscle and bone development in the jaws to eventually reshape and reposition them. The Herbst appliance utilizes a set of metal hinges connected to the top and bottom jaws; when the patient opens and closes their jaws the hinges encourage the lower jaw to move (and eventually grow) forward. If successful, it could help a patient avoid more invasive treatments like tooth extraction or jaw surgery.
Some interceptive objectives are quite simple in comparison like preserving the space created by a prematurely lost primary tooth. If a child loses a primary tooth before the incoming permanent tooth is ready to erupt, the nearby teeth can drift into the empty space. Without enough room, the permanent tooth could erupt out of position. We can hold the space with a simple loop device known as a space maintainer: usually made of acrylic or metal, the device fits between adjacent teeth and prevents them from drifting into the space until the permanent tooth is ready to come in.
Interceptive orthodontics can have a positive impact on your child's jaw development, now and in the future. For these techniques to be effective, though, they must begin early, so be sure your child has a complete orthodontic evaluation beginning around age 7. You may be able to head off future bite problems before they happen.
If you would like more information on orthodontic treatments, please contact us or schedule an appointment for a consultation.