Posts for: December, 2017
By Lawrence Marini, D.D.S.,PC
December 20, 2017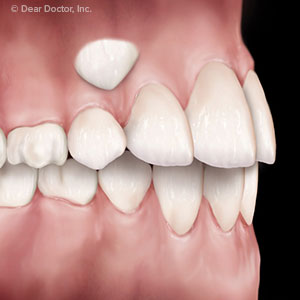 What makes an attractive smile? Of course, shiny, straight and defect-free teeth are a big factor. But there's another equally important element: all your teeth have come in.
Sometimes, though, they don't: one or more teeth may remain up in the gums, a condition known as impaction. And if they're in the front like the upper canines (the pointed teeth on either side of the front four incisors) your smile's natural balance and symmetry can suffer.
Impaction usually happens due to lack of space on a small jaw. Previously erupted teeth crowd into the space of teeth yet to come in, preventing them from doing so. As a result the latter remain hidden within the gums.
While impaction can interfere with the smile appearance, it can cause health problems too. Impacted teeth are at higher risk for abscesses (localized areas of infection) and can damage the roots of other teeth they may be pressing against. That's why it's desirable for both form and function to treat them.
We begin first with an orthodontic examination to fully assess the situation. At some point we'll want to pinpoint the impacted teeth's precise location and position. While x-rays are useful for locating impacted teeth, many specialists use cone beam CT (CBCT) technology that produces highly detailed three-dimensional images viewable from different vantage points.
If the tooth is in too extreme a position, it might be best to remove it and later replace it with a dental impact or similar restoration once we've completed other necessary orthodontic treatment. But if the tooth is in a reasonable position, we might be able to "move" the tooth into its proper place in the jaw in coordination with these other tooth-movement efforts to make room for it.
To begin this process, an oral surgeon or periodontist surgically exposes the tooth crown (the normally visible portion) through the gums. They then bond a small bracket to the crown and attach a small gold chain. An orthodontist will attach the other end to orthodontic hardware that will exert downward pressure on the tooth to gradually bring it into normal position.
Dealing with impacted teeth of this nature is often part of a comprehensive effort to correct the bite. If we're successful, it could permanently transform both the smile and overall dental health.
If you would like more information on treating impacted teeth, please contact us or schedule an appointment for a consultation. You can also learn more about this topic by reading the Dear Doctor magazine article "Exposing Impacted Canines."
By Lawrence Marini, D.D.S.,PC
December 05, 2017
Teething is a normal part of your baby's dental development. That doesn't make it less stressful, though, for you or your baby.
This natural process occurs as your child's primary teeth sequentially erupt through the gums over a period of two or three years. The first are usually the two lower front teeth followed by the two upper front ones, beginning (give or take a couple of months) between six and nine months. By the age of three, most children have all twenty of their primary teeth.
The disruption to the gum tissues can cause a number of unpleasant side effects including gum swelling, facial rash, drooling, disrupted sleep patterns and decreased appetite. As a result a child can become irritable, bite and gnaw to relieve gum discomfort or rub their ears. Every child's experience is different as well as their degree of pain and discomfort.
As a tooth is about to erupt, you may notice symptoms increasing a few days before and after. The symptoms will then subside until the next tooth begins to erupt. In a way, teething is much like a storm—you mostly have to ride it out. However, that doesn't mean you can't lessen your child's discomfort during the teething episode.
For one thing, cold, soft items like teething rings, pacifiers or even a clean, wet washcloth your child can gnaw on will help relieve gum pressure. Chilling the item can have a pain-numbing effect—but avoid freezing temperatures, which can burn the tissues. You can also massage the gums with a clean finger to relieve pain. But don't rub alcohol on their gums and only use numbing agents (like Benzocaine) for children older than two, and only with the advice and supervision of your healthcare provider. The use of acetaminophen or ibuprofen might also be used under the advice of your doctor.
If you notice your child has diarrhea, extensive rashes or fever, contact your physician immediately—these aren't normal teething symptoms and may indicate something more serious. And be sure to consult with us if you have any other questions or concerns.
Teething can be a difficult time for your baby and family. But with these tips and a little "TLC" you can keep their discomfort to a minimum.
If you would like more information on caring for your baby's developing teeth, please contact us or schedule an appointment for a consultation. You can also learn more about this topic by reading the Dear Doctor magazine article "Teething Troubles: How to Help Your Baby be Comfortable."