Posts for: January, 2020
By Lawrence Marini, D.D.S.,PC
January 13, 2020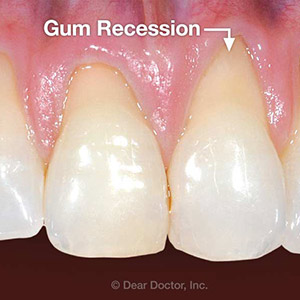 Your gums play an important role in dental function and health. Not only do they help anchor teeth in the jaw, the gums also protect tooth roots from disease.
But you can lose that protective covering if your gums recede or shrink back from the teeth. An exposed tooth is more susceptible to decay, and more sensitive to temperature and pressure.
Here are 4 causes for gum recession and what you can do about them.
Gum disease. The most common cause for gum recession is a bacterial infection called periodontal (gum) disease that most often arises from plaque, a thin film of bacteria and food particles accumulating on teeth. Gum disease in turn weakens the gums causes them to recede. You can reduce your risk for a gum infection through daily brushing and flossing to remove disease-causing plaque.
Genetics. The thickness of your gum tissues is a genetic trait you inherit from your parents. People born with thinner gums tend to be more susceptible to recession through toothbrush abrasion, wear or injury. If you have thinner tissues, you'll need to be diligent about oral hygiene and dental visits, and pay close attention to your gum health.
Tooth eruption. Teeth normally erupt from the center of a bony housing that protects the root. If a tooth erupts or moves outside of this housing, it can expose the root and cause little to no gum tissue around the tooth. Moving the tooth orthodontically to its proper position could help thicken gum tissue and make them more resistant to recession.
Aggressive hygiene. While hard scrubbing may work with other cleaning activities, it's the wrong approach for cleaning teeth. Too much force applied while brushing can eventually result in gum damage that leads to recession and tooth wear. So, "Easy does it": Let the gentle, mechanical action of the toothbrush bristles and toothpaste abrasives do the work of plaque removal.
While we can often repair gum recession through gum disease treatment or grafting surgery, it's much better to prevent it from happening. So, be sure you practice daily brushing and flossing with the proper technique to remove disease-causing plaque. And see your dentist regularly for cleanings and checkups to make sure your gums stay healthy.
If you would like more information on proper gum care, please contact us or schedule an appointment for a consultation. You can also learn more about this topic by reading the Dear Doctor magazine article "Gum Recession."
By Lawrence Marini, D.D.S.,PC
January 03, 2020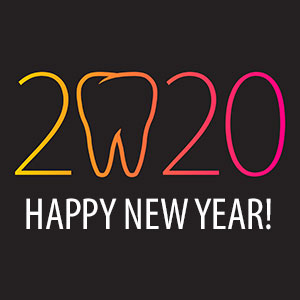 The 2020s are here, so throw those "new decade" parties! Well, maybe. Some of your party guests might insist the Twenties won't begin until January 1, 2021. For some reason, feelings can run hot on both sides of this "debate," enough to warm up everyone's eggnog. Instead, steer the conversation to something a little less controversial: how to achieve the best possible dental health in the upcoming decade (whenever it comes!).
Sadly, many folks don't pay attention to their dental health until it's in dire need of attention. The better approach is to be proactive, not reactive: doing things now to ensure healthy teeth and gums years, and decades, later.
If you say brush and floss daily, you're already ahead of the game. Nothing you do personally promotes a healthy mouth more than dedicated oral hygiene. But there's one more critical piece to proactive dental care—a solid partnership with us, your dental professionals. Working together, we can help ensure you remain healthy dental-wise for the long term.
To understand the value of this partnership, it helps to think of dental care as a four-phased cycle:
Identifying your individual dental risks. Because of our individual physical and genetic makeup, each of us faces different sets of risks to our dental health. Over the course of regular dental visits, we can identify and assess those weaknesses, such as a propensity for gum disease or structural tooth problems due to past tooth decay.
Designing your personal care program. Depending on your risk profile assessment, we can develop an ongoing personal care program to minimize those risks. Part of this risk-lowering plan will be identifying recommended prevention measures like enhanced fluoride applications or areas that need correction or treatment.
Treating dental problems promptly. The key to the best possible dental health is treating any arising problems as soon as possible. Diseases like tooth decay or gum disease only get worse with time and cause more damage the longer they go untreated. Treatment, though, can also extend to less urgent matters: Straightening crooked teeth, for example, can make it easier to keep them clean.
Maintaining your optimum level of health. Through comprehensive treatment and care, we can help you reach "a good place" in your dental health. But we can't stop there: We'll continue to monitor for health changes and maintain the good practices we've already established through regular care. And with any new developments, we begin the cycle again to keep you focused on optimum dental health.
No one knows what their life will be like passing through the next decade. But one thing's for certain: A dental care partnership with us can help you achieve the health you desire for your teeth and gums.
If you would like more information about ongoing dental care, please contact us or schedule an appointment. To learn more, read the Dear Doctor magazine articles "Successful Dental Treatment" and "Cost-Saving Treatment Alternatives."