Posts for: September, 2021
By Lawrence Marini, D.D.S.,PC
September 19, 2021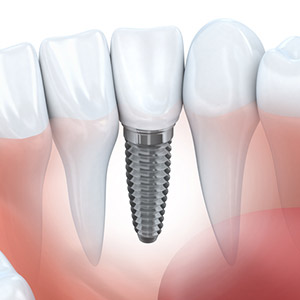 Along with fessing up to cherry tree surgery and tossing silver dollars across the Potomac River, George Washington is also famously known for wearing wooden dentures. Although we can't verify the first two legends, we can confirm Washington did indeed wear dentures, but not of wood—hippopotamus ivory and (yikes!) donated human teeth—but not wood.
Although they seem primitive to us today, Washington's dentures were the best that could be produced at the time. Still, the Father of Our Country suffered mightily from his dentures, both in physical discomfort and social embarrassment. Regarding the latter, our first president's dentures contorted his lips and mouth in an unattractive way, faintly discernable in Gilbert Stuart's famous portraits of our first president.
If only Washington had lived in a later era, he might have been able to avoid all that dental unpleasantness. Besides better versions of dentures, he might also have benefited from an entirely new way of replacing teeth—dental implants. Just four decades after this state-of-the-art restoration was first introduced, we now recognize implants as the "Gold Standard" for tooth replacement.
In recognition of Dental Implant Month in September, here are 4 reasons why dental implants might be the right tooth replacement choice for you.
Life-like. While other restorations provide a reasonable facsimile of natural teeth, implants take like-likeness to another level. That's because the implant replaces the root, which then allows for a life-like crown to be attached to it. By positioning it properly, implants and the subsequent crown can blend seamlessly with other teeth to create an overall natural smile appearance.
Durable. Implants owe their long-term durability (more than 95% still functioning after ten years) to a special affinity between bone and the titanium post imbedded in the jaw. Bone cells readily grow and adhere to the implant's surface, resulting over time in a more secure hold than other restorations. By the way, this increased bone growth around implants can help slow or even stop progressive bone loss.
Low impact. Dental bridges are another well-regarded tooth replacement option, but with a major downside: The natural teeth on either side of the missing teeth gap must be crowned to support the bridge. To prepare them, we must permanently alter these teeth. Implants, though, don't require this form of support, and so have a negligible effect on other teeth.
Versatile. Although implants are a practical choice for individual tooth restorations, multiple teeth replacements can get expensive. Implants, though, can also be incorporated into other restorations: Four to six implants can support an entire removable denture or fixed bridge. Implant-supported restorations are more durable than the traditional versions, while also encouraging better bone health.
If you need to replace teeth and would like to consider dental implants, see us for a complete examination. You may be an ideal candidate for this "best of the best" dental restoration.
If you would like more information about dental implants, please contact us or schedule a consultation. To learn more, read the Dear Doctor magazine article "Dental Implants."
By Lawrence Marini, D.D.S.,PC
September 09, 2021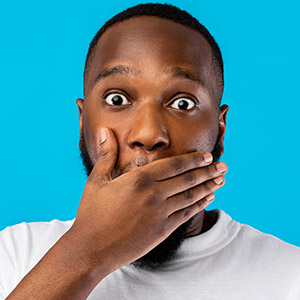 Some things in life are almost guaranteed to make you go, "Uh, oh"—your car won't start, your a/c goes out, or, worse yet, you get an unexpected letter from the IRS.
Here's another: One of your teeth is loose. And, if you don't act quickly, that loose tooth may soon become a lost tooth.
But first, we need to find out why it's loose. It's usually due to one of two types of injury related to your bite. One type is called primary occlusal trauma. This results from your teeth encountering higher than normal biting forces. This often happens if you habitually gnash or grind your teeth together outside of normal functions like eating or speaking.
The other type is secondary occlusal trauma. In this case, the supporting gum tissues and bone have been weakened or lost by disease, with the gum tissues possibly becoming detached. Without this support, even normal biting forces could loosen a tooth.
Our treatment approach for a loose tooth may differ depending on which of these is the cause. For primary occlusal trauma, we want to reduce the biting forces that have contributed to loosening the tooth. One way to do this is to create a mouthguard that when worn prevents teeth from making solid contact during grinding episodes.
For secondary trauma, we want to first focus on treating any gum disease responsible for weakening the gum tissues. Once we have it under control, the gums and bone tissues can heal and possibly regain and strengthen their attachment with the tooth.
At the same time, we may also need to stabilize a loose tooth to prevent its loss. This usually involves splinting, whereby we use neighboring healthy teeth to support the loose tooth. One way to do this is to attach a metal strip across the backs of the loose tooth and its more stable neighbors, or by way of a channel cut through the top biting surfaces of the teeth.
If a loose tooth regains its attachment with the gums and bone, it may stabilize and any splinting can be removed. If not, splinting may become a permanent solution. Either way, prompt treatment can help us save your loose tooth.
If you would like more information on treating loose teeth, please contact us or schedule an appointment for a consultation. You can also learn more about this topic by reading the Dear Doctor magazine article "Loose Teeth: Biting Forces Can Loosen Teeth."