Posts for tag: tooth decay
By Lawrence Marini, D.D.S.,PC
March 03, 2020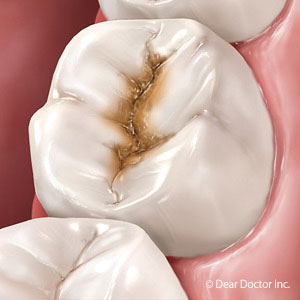 Tooth decay doesn't occur out of thin air, but is the end result of bacteria feeding on sugar, multiplying and producing acid. High acidity erodes tooth enamel and creates an environment for cavity development.
Modern dentistry can effectively treat cavities and often save the tooth from further damage. But you don't have to wait: You can reduce your chances of cavities by managing risk factors that contribute to decay.
Here are 4 top risk factors for tooth decay and what you can do about them.
Poor saliva flow. Saliva neutralizes acid and helps restore minerals to enamel after acid contact. But your enamel may not have full protection against acid if you have diminished saliva flow, often due to certain medications. You can help increase your saliva by consulting with your doctor about drug alternatives, drinking more water or using a saliva boosting product. Smoking can also inhibit saliva, so consider quitting if you smoke.
Eating habits. High sugar content in your diet can increase bacterial growth and acid production. Reducing your overall sugar consumption, therefore, can reduce your risk of decay. Continuous snacking can also increase your decay risk, preventing saliva from bringing your mouth back to its normal neutral pH. Instead, limit your snack periods to just a few times a day, or reserve all your eating for mealtimes.
Dental plaque. Daily eating creates a filmy buildup on the teeth called dental plaque. If not removed, plaque can then harden into a calcified form called calculus, an ideal haven for bacteria. You can help curtail this accumulation by thoroughly brushing and flossing daily, followed by dental cleanings at least every six months. These combined hygiene practices can drastically reduce your cavity risk.
Your genetics. Researchers have identified up to 50 specific genes that can influence the risk for cavities. As a result, individuals with similar dietary and hygiene practices can have vastly different experiences with tooth decay. Besides continuing good lifestyle habits, the best way to manage a genetic disposition for dental disease is not to neglect ongoing professional dental care.
If you would like more information on managing your tooth decay risk factors, please contact us or schedule an appointment for a consultation. You can also learn more about this topic by reading the Dear Doctor magazine article "What Everyone Should Know About Tooth Decay."
By Lawrence Marini, D.D.S.,PC
August 16, 2019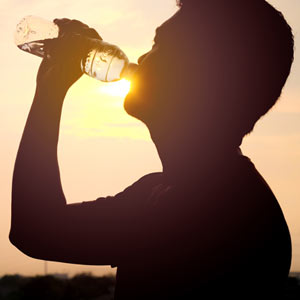 In many parts of the country, summer is often a synonym for "blast furnace" and can be downright hot and miserable. If you find yourself in such a climate, it's imperative that you drink plenty of water to beat both the heat and heat-related injuries. Your teeth and gums are another reason to keep hydrated during those hot summer months.
Your body needs water to produce all that saliva swishing around in your mouth. When you have less water available in your system, the production of this important bodily fluid can go down—and this can increase your risk of dental disease. That's because saliva performs a number of tasks that enhance dental health. It helps rinse the mouth of excess food particles after eating that could become a prime food source for disease-causing bacteria. It also contains antibodies that serve as the first line of defense against harmful microorganisms entering through the mouth.
Perhaps saliva's most important role, though, is protecting and strengthening enamel, the teeth's outer "armor" against disease. Although the strongest substance in the body, enamel has one principal foe: oral acid. If the mouth's normally neutral pH becomes too acidic, the minerals in enamel begin to soften and dissolve. In response, saliva neutralizes acid and re-mineralizes softened enamel.
Without a healthy salivary flow protecting the mouth in these different ways, the teeth and gums are vulnerable to assault from bacteria and acid. As they gain the upper hand, the risk for tooth decay or periodontal (gum) disease can skyrocket. Keeping yourself adequately hydrated ensures your body can produce an ample flow of saliva.
By the way, summer heat isn't the only cause for reduced saliva: Certain prescription medications may also interfere with its production. Chemotherapy and radiation, if targeting cancer near the head or neck, can damage salivary glands and impact flow as well.
If you have reduced saliva from medication you're taking, talk to your doctor about switching to an alternative prescription that doesn't affect saliva production. If you're undergoing cancer treatment, be extra vigilant about your oral hygiene practice and regular dental visits. And as with summer heat, be sure you're drinking plenty of water to help offset these other effects.
Even when it's hot, summertime should be a time for fun and relaxation. Don't let the heat ruin it—for your health or your smile.
If you would like more information about the oral health benefits of saliva and how to protect it, please contact us or schedule an appointment for a consultation.
By Lawrence Marini, D.D.S.,PC
February 17, 2019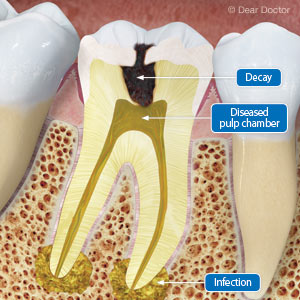 A root canal treatment is a common procedure performed by dentists and endodontists (specialists for inner tooth problems). If you're about to undergo this tooth-saving procedure, here's what you need to know.
The goal of a root canal treatment is to stop tooth decay within a tooth's interior and minimize any damage to the tooth and underlying bone. This is done by accessing the tooth's pulp and root canals (tiny passageways traveling through the tooth roots to the bone) by drilling into the biting surface of a back tooth or the "tongue" side of a front tooth.
First, though, we numb the tooth and surrounding area with local anesthesia so you won't feel any pain during the procedure.  We'll also place a small sheet of vinyl or rubber called a dental dam that isolates the affected tooth from other teeth to minimize the spread of infection.
After gaining access inside the tooth we use special instruments to remove all of the diseased tissue, often with the help of a dental microscope to view the interior of tiny root canals. Once the pulp and root canals have been cleared, we'll flush the empty spaces with an antibacterial solution.
After any required reshaping, we'll fill the pulp chamber and root canals with a special filling called gutta-percha. This rubberlike, biocompatible substance conforms easily to the shape of these inner tooth structures. The filling preserves the tooth from future infection, with the added protection of adhesive cement to seal it in.
Afterward, you may have a few days of soreness that's often manageable with mild pain relievers. You'll return for a follow-up visit and possibly a more permanent filling for the access hole. It's also likely you'll receive a permanent crown for the tooth to restore it and further protect it from future fracture.
Without this vital treatment, you could very well lose your tooth to the ravages of decay. The time and any minor discomfort you may experience are well worth the outcome.
If you would like more information on treating tooth decay, please contact us or schedule an appointment for a consultation. You can also learn more about this topic by reading the Dear Doctor magazine article "Root Canal Treatment: What You Need to Know."